Capable of operation over a wide working viscosity range
Digital display tells how the pump is doing on sight.
Control by timer and counter is selectable.
Specifications
Pump
Discharge Volume
150ml/min (50Hz) 180ml/min (60Hz)
Discharge Pressure
2.0MPa (safety valve set pressure)
Motor
Voltage / Current
AC100Vφ1/0.83A AC200Vφ1/0.41A (50Hz)
AC100Vφ1/0.64A AC200Vφ1/0.33A (60Hz)
Output
20W (50Hz/60Hz) CondesorMotor
Controller
Timer

Discharge time adjustable range:
1〜99sec.
Interval time adjustable range:
1〜9999min.
1〜9999counts

※Please specify when ordering if you want to count control.

Abnormal output
Contact type A Contact (NO)
Contact capacity AC250V 1.5A
Emergency Detection
Oil level pressure
Oil level switch

| | |
| --- | --- |
| Contact Type | A Contact (NO) ON at low level |

Prerssure switch

Contact Type
B接点 (NC)
Operating pressure:1.7MPa OFF
Reset pressure: 0.9MPa ON

Liquid crystal display
INTERVAL
display "INT"
DISCHARGE
display "DIS"
ALARM
When oil side decreases, display "OILLEVEL ERR" When pressure is abnormal, display "PRESSURE ERR"
Working Viscosity Range
68〜1800mm2/S (50Hz)
Reservoir Capacity
1.8l、3l (plastic) 3l、4l、8l (sheet metal)
Weight
1.8lReservoir:3.2kg 3lReservoir:4kg
APPLICATION:
Model
| Model | Part Number |
| --- | --- |
| AMO-III DS-1 | 285301 |
| AMO-III DS-1-3 | 285303 |
| AMO-III DS-2 | 285302 |
| AMO-III DS-2-3 | 285304 |
Directions for use
| | |
| --- | --- |
| ● | Do not remove the oil strainer to keep the pump clear of foreign matter. |
| ● | Replace or clean the suction filter at least once a year. Click here to view the service list. |
| ● | Oil viscosity varies with oil temperature. Be sure to use oil within the working viscosity range. Refer to the viscosity table. |
| ● | Do not use any special additive-contained oil, water soluble oil and solvent. |
| ● | Periodically check the oil in the reservoir for impurities. Replace it, if necessary, with fresh oil immediately. Be sure to clean the reservoir before oil change. |
| ● | Make sure that proper voltage and pressure are proper. |
| ● | Do not over tighten the discharge joint. Refer to the tightening torque table. |
| ● | Low-oil viscosity versions are available. Contact us for information. |
| ● | For system planning information, Contact us. |
Document
Controller Setting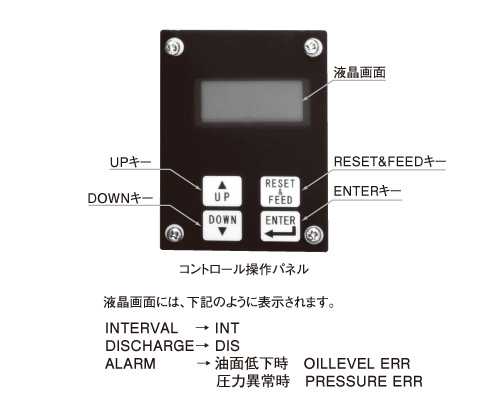 Pump Drawing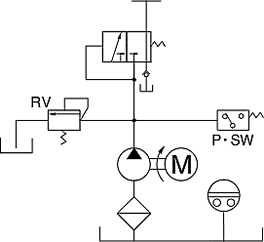 Wiring digram

Dimensional Drawing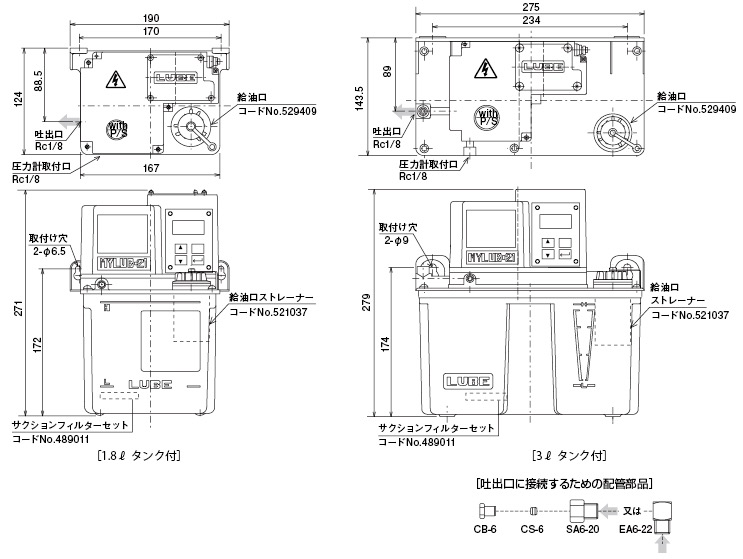 Improper handling can result in a death or serious injury.
Electrical shock may be received under certain conditions.。
Be sure to ground.